Samstag: LIVE zum Colors of Tangoloft Festival in Berlin:
LINE UP
Electrotango mit Tangorra Orquesta Atipica
Mikele Borra -Bandoneon
Cecilia Giles – Violine
Fran Bora – Bass
DJ Saskia Frankena & DJ Jean-Marc Vandel
Visuals – Ludwig Van Ludens
Lightshow – Lilia Keller
IM KÜHLHAUS KUBUS
DJ Saskia Franken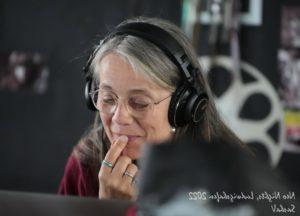 Saskia ist eine engagierte Neotango-DJ. In ihren Sets verwendet sie alle Arten von Musik, sofern tanzbar. Vom Mittelalter über Klassik bis Tango, von traditioneller argentinischer Volksmusik bis hin zu Rock, Jazz, Blues … Musik vom Westen bis zum Osten, vom Norden bis zum Süden. Original, Cover oder Remixe. Sie verwendet gerne lyrische Musik, Musik, die eine Geschichte erzählt, mit etwas Dramatik, etwas Düsterkeit und mehreren Ebenen in der Musik, mit denen sie spielen kann. In ihren Sets geht es darum, den Tänzern zu dienen, indem sie Musik ermöglicht, die diese Tangoverbindung tragen und entfachen kann. 2018 gründete sie zusammen mit Ezequiel Sasnucci La Neo. Seitdem spielt sie auf mehreren Festivals in Frankreich, Deutschland, Belgien und den Niederlanden.
Neotango DJ, VJ & LJ
Since 2005, Jean-Marc has been actively promoting the cause of Neotango by organizing the only Neolonga in the Lake Geneva region.
An avid and eclectic music aficionado, he likes mixing different styles in his sets, in which he strives to find
the perfect balance between well-known pieces and new ones.
Electrotango mit Tangorra Orquesta Atipica
Mikele Borra -Bandoneon
Cecilia Giles – Violine
Fran Bora – Bas
From its beginning, over 13 years, Tangorra Orquesta Atípica has been transforming and renewing Tango without forgetting its roots, looking for innovative sounds that can complement the traditional ones.
Inspired by the story of Don Carlos Borra (il Nonno) an immigrant musician who played for silent films in a small town in Santa Fe with the piano and bandeneon, Tangorra´s stories take place in workshops, taverns and on exotic trips.
That bandeneon became a family inheritance, with all its tradition, arrived in the hands of Mikele Borra in 2010. It immediately became a story to tell with with his cousin and producer, Fran Borra.
Lightshow – Lilia Keller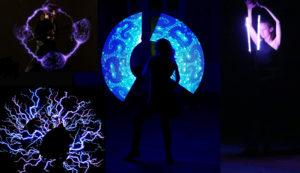 Lilia combines magic, dance, juggling & great visual effects, that are new to the audience.This visual performance takes the audience into new realms & other dimensions
Visuals – Ludwig Van Ludens
Licht-Membranen von Loudwig Van Ludens – Colors of Tango Festival Okt. 2023
GANZES PROGRAMM
zum Colors of Tango Festival, findet Ihr hier: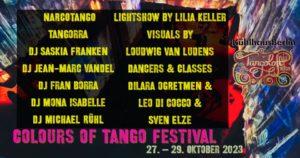 ORT: KÜHLHAUS BERLIN (5. OG)
LUCKENWALDER STR. 3
10963 BERLIN