Graiciela González – WORKSHOPS & SHOW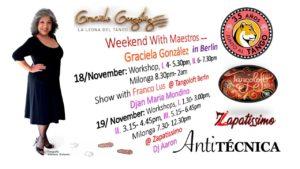 SAMSTAG on the 18th of November
The legendary La Leona Del Tango Graciela González is touring around in Europe. From 17- 19 November 2023, she will be in Berlin with us and celebrating her 35 years of her Tango career.
Please join the event of Berlinos Aires Milonga.
2 Workshops, 1 Show with Franco Lus/ Italy @ Tangoloft Berlin
Privat lesson on enquirement.
Who is Graciela González:
Graciela González is one of the main personalities of the tango generation of the 80s. Her research led her to the creation of the TECHNICAL SEMINARS for women in January 1994,
MARCACIÓN for men in June 1995 and ANTITÉCNICA in June 2016.
She has been dancing since 1988. The great maestro Pupi Castello was her dance teacher and dance partner for 19 years long until Pupi died.
In her career she has danced among others, with Pepito Avellaneda and Antonio Todaro, Gustavo Naveira, Juan Bruno, Teté, Martha Antón and El Gallego Manolo, El Turco José, Lampazo, Eduardo Pareja, Gerardo Portalea, Cacho Pistola, Nito and Elba and of those who have written the Tango history.
AntiTecnica:
Graciela Gonzalez has worked with her innovative method at AntiTecnica for years. According to her convincing pinion, one should learn his own body language and his body sensations on a naturally way, through body memories these teach oneself to have his own postures and thereby improve body understanding, it helps one´s body, to be prepared to practice a technical posture without force the body which could lead to body injuries. In use of her methods, the learner can give his body "his own style". The dancers have only to care about the good embrace and enjoy the music.
Her theory and methods are recognized and imitated worldwide since ever.
She is PARTNER and FOUNDER of the first Association of Teachers, Dancers and Choreographers of Argentine Tango (AMBCTA), founded in April 2001 in Buenos Aires.
She has been a jury member of the Tango World Cup in the city of Buenos Aires since its inception.
She is an academician of the National Academy of Tango under the direction of Gabriel Soria.
Workshop Themen: AntiTecnica
This Workshop is in a 3 hours Seminar with pause, the participants registered as couple ( 2 People ) and the same people remaining for the Workshop I. and the II. So as for the WS III and WS IV.
18 November
4- 5.30pm
WS I. p/P/WS 35 Euro,  ( join in as couple or 2 People )
6- 7.30pm
WS II. p/P/WS 35 Euro  (people remaining as WS I. )
Milonga p/P 15 Euro, 8.30pm- 2am
Venue: Tangoloft Berlin, Luckenwalder Str. 3, 10963 Berlin, 5th floor.
For registration: hsiao@t-online.de
FB: Hsiao Wang Wendy
WhatsApp: +491732016601
See you there at Event.