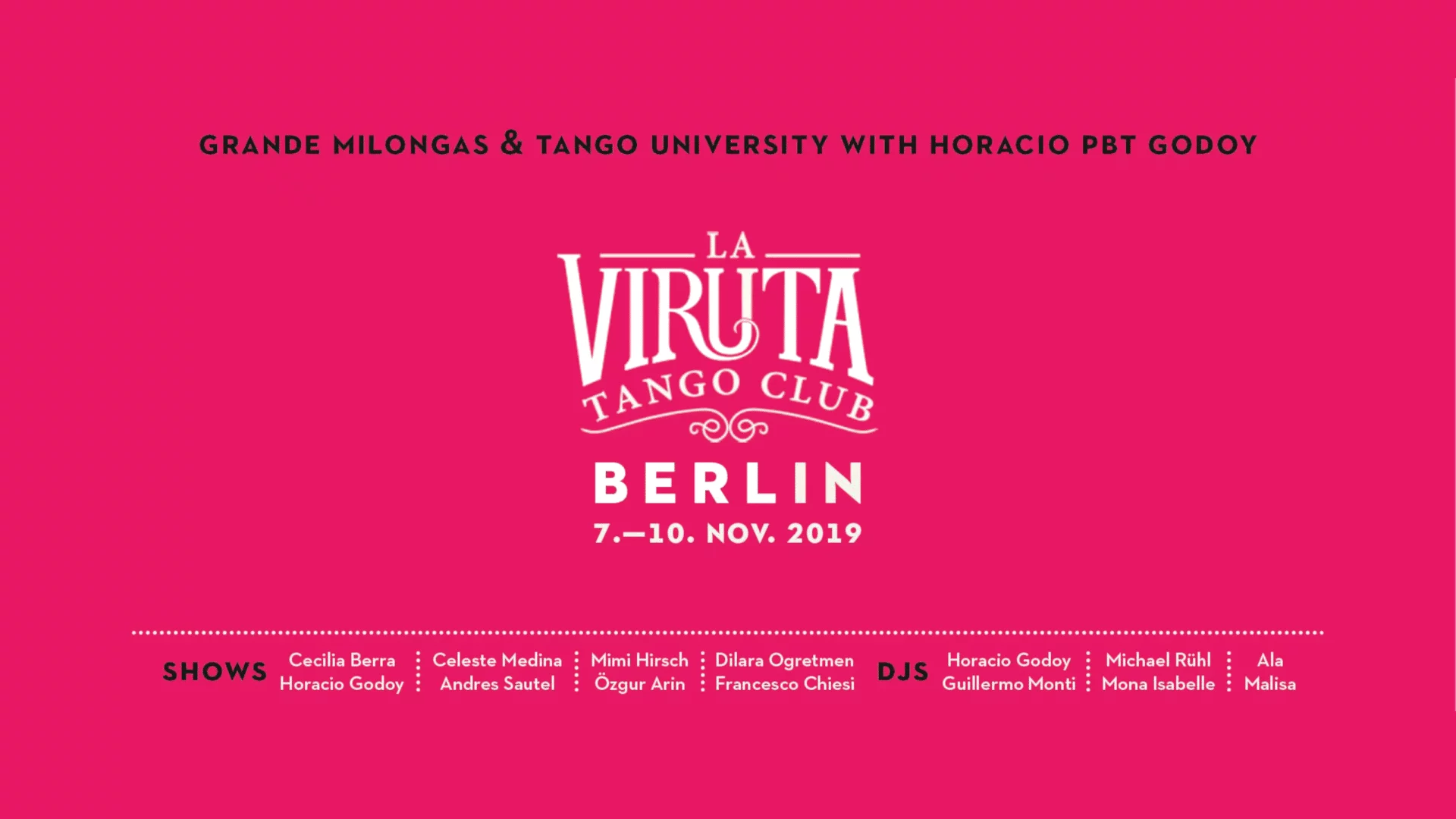 La Viruta Berlin 2022
03
November
2022
(4:00 PM)
-
07
November
2022
(8:55 PM)
5 Nights of Grande Milongas and Seminars with Horacio Godoy
This Event is a cooperation of…
Tango Rouge and Tangoloft Berlin.
---
Milongas from Thursday to Monday. Kubus Kühlhaus Berlin and Basement KitKatClub.
Booking at The door, Tickets 10-15 €
DJs:
Horacio Godoy, Sonja Zivanovic, Francesco Chieschi, Maria Mondino, Mona Isabelle
Shows:
Maricel Giacomini & Horacio Godoy /// Gaia Pisauro & Leonardo Furlan /// Mimi Hirsch & Özgur Arin /// Evi Sofra & Sven Elze
8 Seminars on Musicality + 1 Special with Horacio Godoy & Maricel Giacomini
Thursday 3.11.
19:00-20:30
Juan D'Arienzo
Juan D'Arienzo is maybe the most popular music for dancers. Here we go deeper in the mood, structure, and development of his music.
Friday 4.11.
18:00-19:30
Rudolfo Biagi
After his time with D' Arienzo, Biagi developed a delicate and unique style of Tango, which we try to get a deeper understanding.
19:45-21:15
Anibal Troilo
The greatest orquestra of all times? We follow this question in the try to dance to a Tango, that can't be deeper.
Saturday 5.11.
16:00-17:30
Rhytmical Base I
Understanding rhythmic base. Marcato in 4 and 2 applied in relation to the melodies and counter melodies.
17:45-18:45
Rhytmical Base II
Marcatto in 4, 2 and ground syncopation. Development of different techniques and possibilities in relation to the melody, rhythmic base, melodic bridge and counter melodies.
19:00-20:30
Osvaldo Pugliese
We develop the pattern of movement for the music of Pugliese, known as the most dramatic and energetical one, a high challenge in interpretation in dance.
Sunday 6.11.
17:00-18:30
Rhytmical Base III
Syncopations, all the possibilities: ground, air, anticipated, double.
18:45-20:15
Rhytmical Base IV
Opposite Marcatto, 3-3-2 and 4-1.
Monday 7.11.
19:30-21:00
Special Seminar: History F.A.Q. with Horacio Godoy
You book the number of seminars and choose free which one you attend. The seminars are in Style of La Viruta Classes: Big groups, not limited in number of participants. You can also book alone, this seminars are always naturally gender balanced, and we change a lot during the classes.
Tickets: Early Bird Promotion till end of August:
1 Seminar: 35 Euro / 2: 60 Euro / 4: 110 Euro / 6: 155 Euro / 8: 190 Euro
Book full package
and free entrance to Special Seminar on Monday
Booking: La Viruta Berlin
Event locations:
Thursday to Saturday : Kubus Kühlhaus Berlin
Sunday: Tangoloft Kühlhaus
Monday: KitKatClub Basement
Contact: pebeteberlin@gmail.com
0172-6323210